OCX/DLL Version Checker
This MDB verifies the remote systems OCX/DLL versions against your version. You enter the OCX/DLLs you're interested in, go to the Programmers Menu and click on the "Update DLL Version Table with current values. (Programmers)" button. You then make this an MDE and ship to your customers. When they run it they will see any differences.
To download this utility click here.
You want to avoid the use of any Microsoft OCX/DLL due to version and distribution problems. Many of them are just wrappers around API calls anyhow.

I think one answer is to locate the absolute newest version of the OCX/DLLs which you use, install them on your system and distribute them with your app. If it breaks someone else's app well tough they need to do the same thing. This, however, is not a good answer. In fact it's likely a poor answer.
Links
[ Access Downloads | Access | Main | Search ]


Auto FE Updater distribute new and updated Front End databases to your users with several mouse clicks.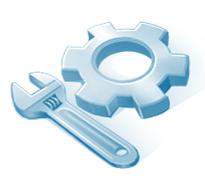 Granite Fleet Manager - the best designed fleet maintenance tracking and management system available